Amend the 2D Layout
In this unit, you will learn how to amend the 2D AutoCAD Layout. You can make some simple changes in the 3D model and have those changes be reflected in the 2D AutoCAD drawing. This workflow is bi-directional, meaning that you can also make changes to the 2D AutoCAD drawing and update the Inventor model.
Exercise: Amend the 2D AutoCAD Layout
Continue with the file from the previous unit's exercise.
If necessary, activate the Asset Browser and Factory Properties palette from the Palettes command on the Factory
Search in the Asset Browser for FANUC R 2000iB L 125 published by Rusty Belcher.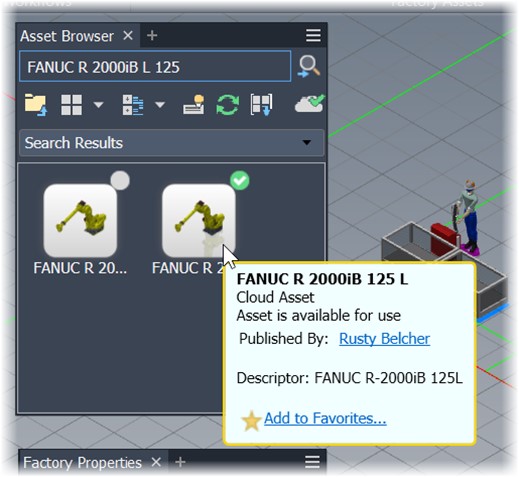 Drag this asset into Inventor and connect it to the top of the riser, as shown in the following image.
Select the robot asset.
Activate iLogic from from the Factory Properties tab and change the first entry to 270. Click Done to complete the change.
Search in the Asset Browser for Gripper Smal.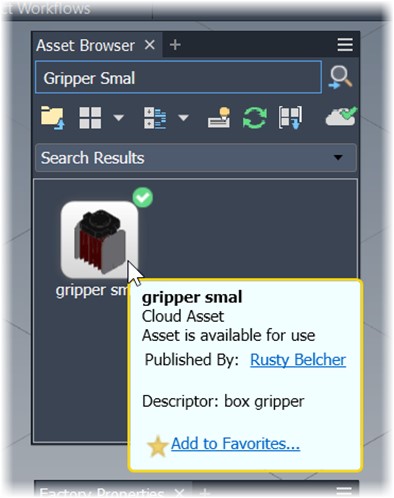 Drag the asset into Inventor and connect it to the head of the robot, as shown below.
Save the assembly file. Click OK for all prompts.
Use the Open in AutoCAD command located on the Factory tab to send the changes back to the AutoCAD drawing. The updated AutoCAD drawing is shown below.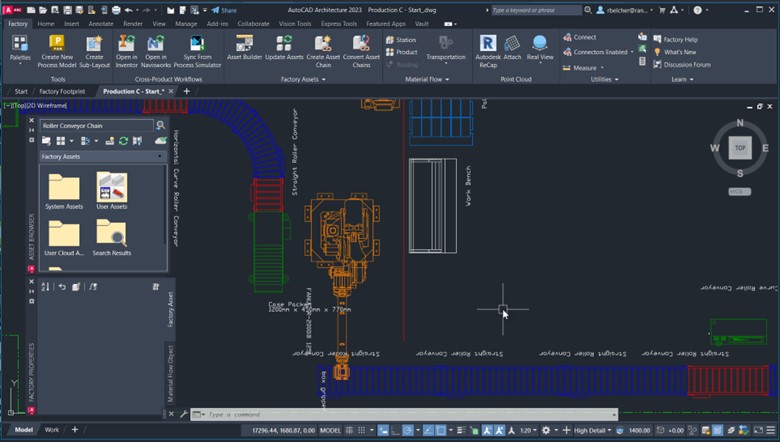 You can add or copy additional assets into the AutoCAD drawing and repeat the Open in Inventor command to update the 3D model as needed.
Save your zone layout drawing and open the parent file Factory Footprint.dwg.
Update the references and note the changes to the drawing.