Teach Users How to Update Their Autodesk Software
As the primary admin, you should teach your users that Autodesk commonly releases product updates. Your users should install these updates to ensure that their software remains up to date and current with all fixes that Autodesk has released. Recommend to users that they should review the available update list and install as necessary throughout the lifecycle of the software, but that all updates are not necessarily required. Direct them to you if they have questions. Often in a support case, users will be asked for their current software build. This identifies to the Autodesk Support Agent what their current version is and can help identify if updates are required to resolve issues.
Autodesk releases updates in the following formats:
Update: Updates (also called Upgrade Releases) are periodic releases for subscribers. These may include new or enhanced software functionality changes or fixes to issues that have been found by Autodesk or users.
Hotfix and Security fix: These updates aim to improve the overall stability of a product based on the crash reports or support issues that have been received. The frequency of these releases often depends on the severity of the issues.
Add-on: An add-on (also called plug-in, add-in, addin, etc.) adds new features to the existing application. Add-ons are used to enhance software by improving its features.
To locate all available updates and know what needs to be installed, you can use either Autodesk Account or Autodesk Access from your installed Autodesk software. These are discussed further below in detailed steps for you to review to support your users. The following are images of the downloadable PDFs that you can share with your users to guide them on learning which updates are available for their software products and how to access them.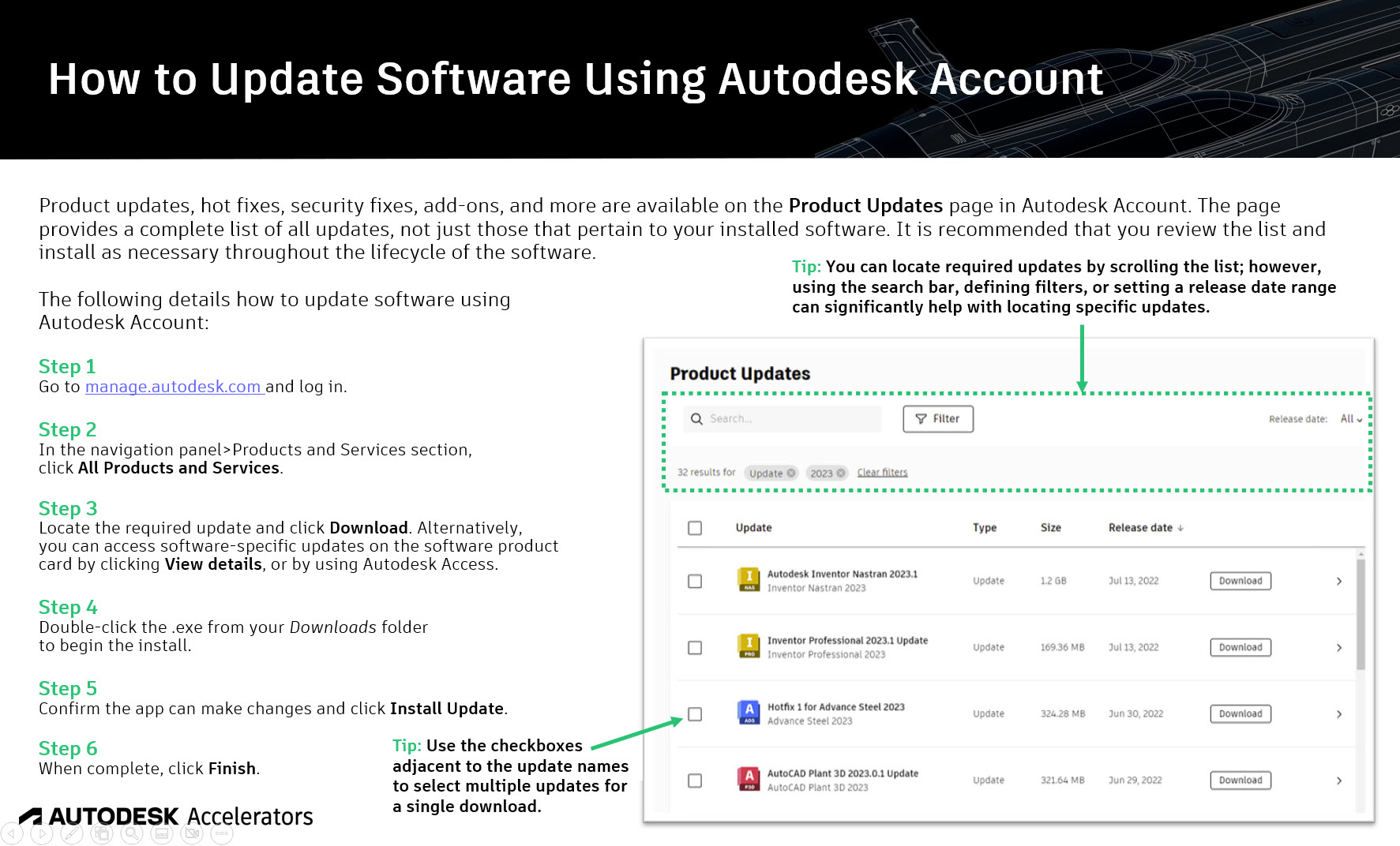 NOTE: You may want to remove your users' ability to install updates through Autodesk Access if they do not have install permissions or you want to control the distribution of updates via another method. Refer to Disable Users' Ability to Install Updates via Autodesk Access for more information. That module also includes an email template for notifying your users of the change to their software updates functionality in its downloadable resources.
How to Install Updates, Hot Fixes, and Security Fixes from Autodesk Account
In Autodesk Account, in the navigation panel>Products and Services section, click Product Updates.
All product updates that are available for all your software are listed on the Product Updates You can scroll through the list of updates to find any updates, hotfixes, or security fixes you are looking for.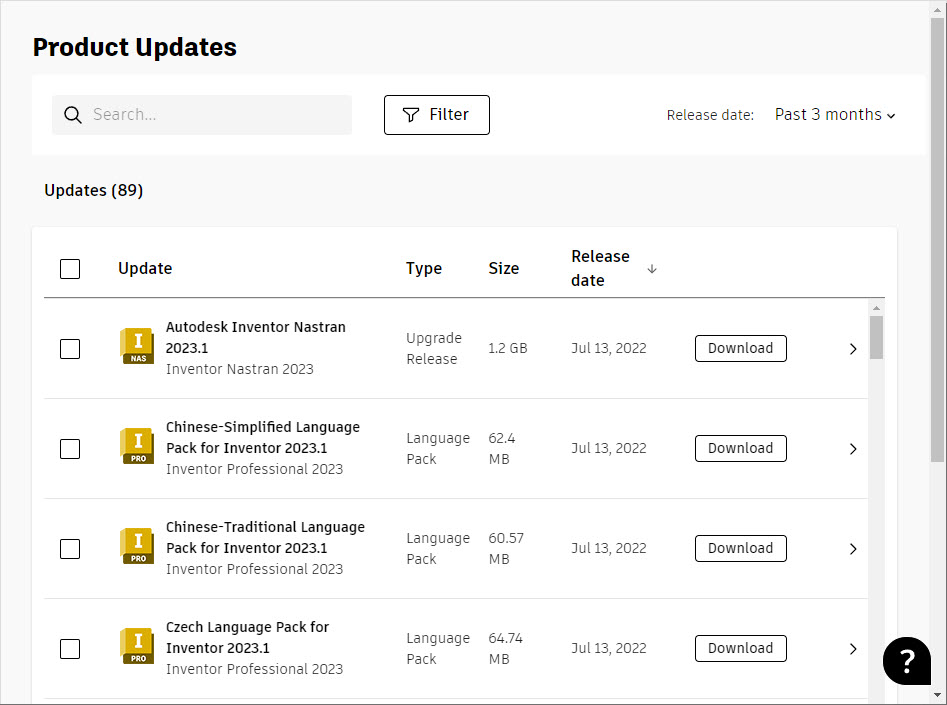 You do not have to install all of the updates in this list; only install those that are required. To refine the list of updates that are provided, consider doing the following:

(1) Enter the name of a software product in the search bar to reduce the number of updates that are listed.
(2) Select Filter to customize the filtered results by Type (e.g., Update, HotFix, or SecurityFix), Product, and/or Release version (e.g., 2023, 2022, or 2021).
(3) Change the Release date option to Past 30 days, Past 3 months, Past 6 months, or All to filter the list by when the update was released.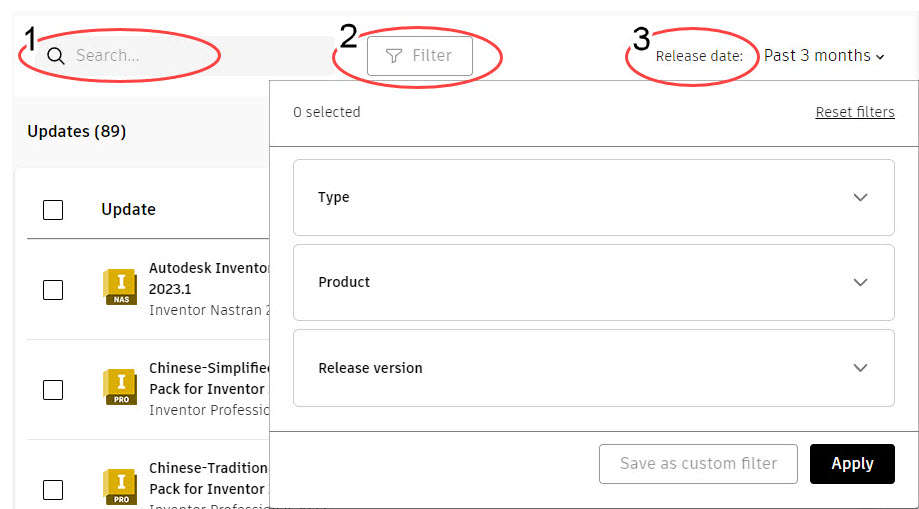 Tip: As an alternative, you can also access software-specific updates directly on the software product's card (under All Products and Services) by clicking View details to access the product's software page. If there are any software updates available for this specific product, they will be listed in the Available downloads section on the Updates tab at the bottom of the product page. By selecting the software version near the top of the page, you can display updates from previous versions.
Once you have located an update, whether it is on the Product Updates page or on the product page, you can expand it to review all its details, if required.
Once you are certain you want to install an update, click Download adjacent to the required update. To download multiple updates, select the checkboxes next to each of the required updates and click Download at the bottom of the page, as shown below.
The download should start automatically. If not, disable any pop-up blockers and click Download Close the pop-up menu.
Verify that the Autodesk software related to the update is not currently open.
Once the update's executable file has finished downloading, navigate to your Downloads folder (or applicable folder) and double-click on the **.exe file to launch it. Note that the naming convention for the update executable file should be similar to the name of the update on the Product Updates page.
If prompted, confirm that you want to allow the app to make changes to your device. Click Show more details if you would like to view more details about Autodesk's certificate or if you would like to change when these notifications appear.
The Autodesk installer dialog box displays. Click Install update.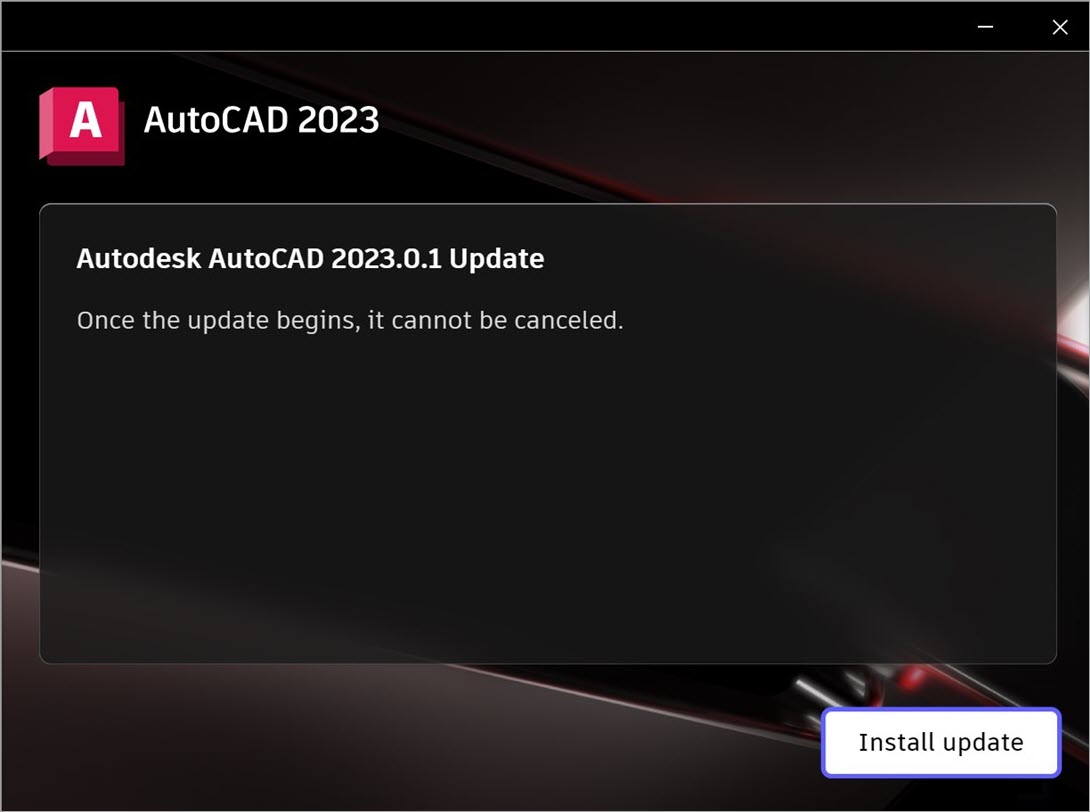 When the installation successfully installs, click Finish.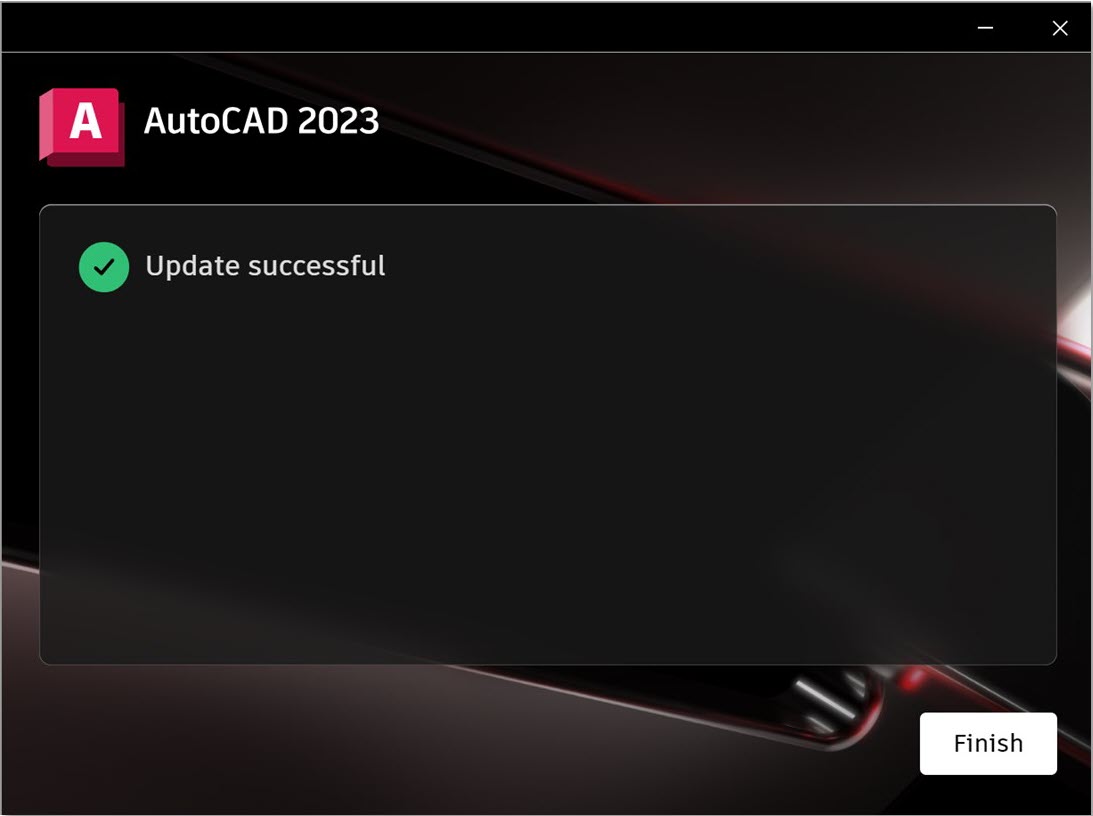 How to Install Software Updates from Autodesk Access
From the computer Start menu, click Autodesk > Autodesk Access.
Sign in to Autodesk Access, if not already signed in.
On the Updates tab, you will see a list of available updates for the software currently installed on your machine. 

If you would like to review notes on the update, click Release notes. 

Click Update next to one or more updates in the list. 

Autodesk Access will automatically initiate the update(s).  

If you do not want to install the update but have selected Update, click Cancel to cancel the installation. 

Once all updates for a software product are installed, the updates will no longer display in the Available updates list within Autodesk Access.
Accessing Help for Updating Software
For help using Autodesk Access, expand the Help drop-down menu at the top of the application and select Contact support to log a question with Autodesk support. You can also select Online help to be redirected to the Autodesk Access help website or Community forum to search for solutions on the Autodesk Access forum Knowledge Network.

If you have any issues or questions about updating software, you can click on the

icon in the lower-right corner of Autodesk Account to access the Get Help menu. Select Post-purchase support > Downloads > Service packs, hotfixes, add-ins & more. Review the Knowledge Network articles or click Contact a support agent for further help.
The following is an image of the downloadable PDF that you can share with your users to guide them on getting help with downloading and installing software from the Autodesk support team.