Civil 3D with BIM 360
Published on November 11, 2020
Using Civil 3D With BIM 360 Design
If you already own BIM 360 Design and Civil 3D, you know the value BIM 360 brings to your projects.
Before you can fully take advantage of the model co-authoring, coordination, and review, the IT department and BIM Manager must setup BIM360 for your teams.
If you are the civil engineer, the BIM Coordinator must also publish the Design files to the cloud before you can begin coordinating with the wider team.
Then the real work can begin.
Click here to view a diagram of this process.
Model Co-authoring
Setup and Organize your work
Stay up to date in the office and on the project job site, using cloud-connected data and systems. This will help you unlock capabilities to share and collaborate across the project lifecycle in real-time without barriers.
Design Coordination and Review
Setup Clash Detection
When you need to communicate with design team members that are not local to you, BIM 360 opens up a wide range of capabilities. BIM 360 fundamentally changed the way the AEC industry worked by allowing various disciplines to work in a real collaborative way. The Model Coordinate module of BIM 360 takes it to the next level by allowing the teams to automatically detect, review, and resolve clashes on their projects. To use it, you must activate the Model Coordination service on a BIM 360 project and then create one or multiple Coordination Spaces.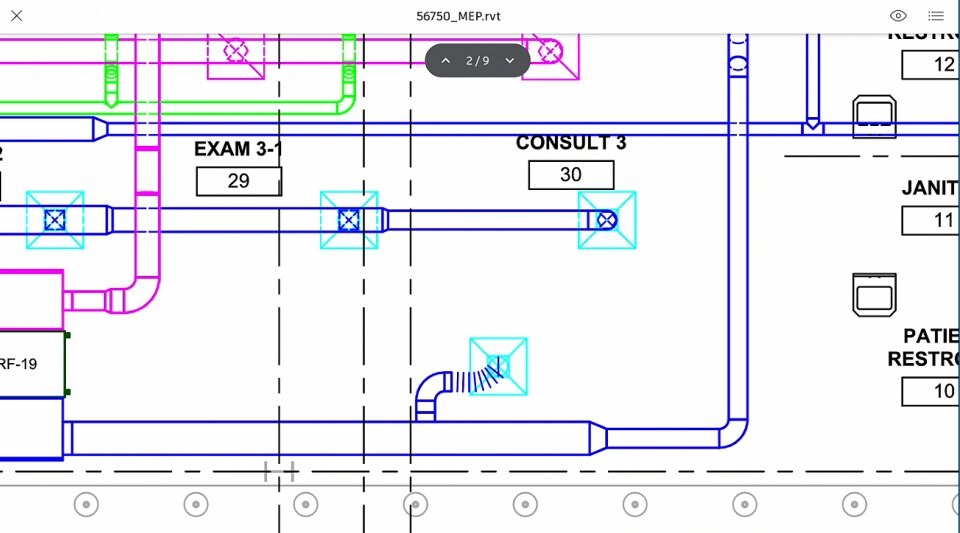 Run Clash Detection
Once the clashes are automatically detected in the BIM 360 Model Coordination module, you then use the tools in this module to review those clashes, create issues, or change a clash to a non-issue. Next, you manage the issue resolution process in the BIM 360 Document Management module to resolve issues before they become costly.


Design Review using the BIM 360 Mobile App
Using the BIM 360 Mobile app on-site in the online and offline modes. We start by downloading the BIM 360 Mobile app and performing design review on the tablet device using this app. Next, we create markups and issues using this app. Finally, we work with RFIs and checklists using the BIM 360 Mobile app.
Documentation
Document the design
When you have the design right where you want it, you can document the design. Taking advantage of Sheet Set Manager can speed up the creation of plan and profile sheets.